Welcome to Bochnewich Law Offices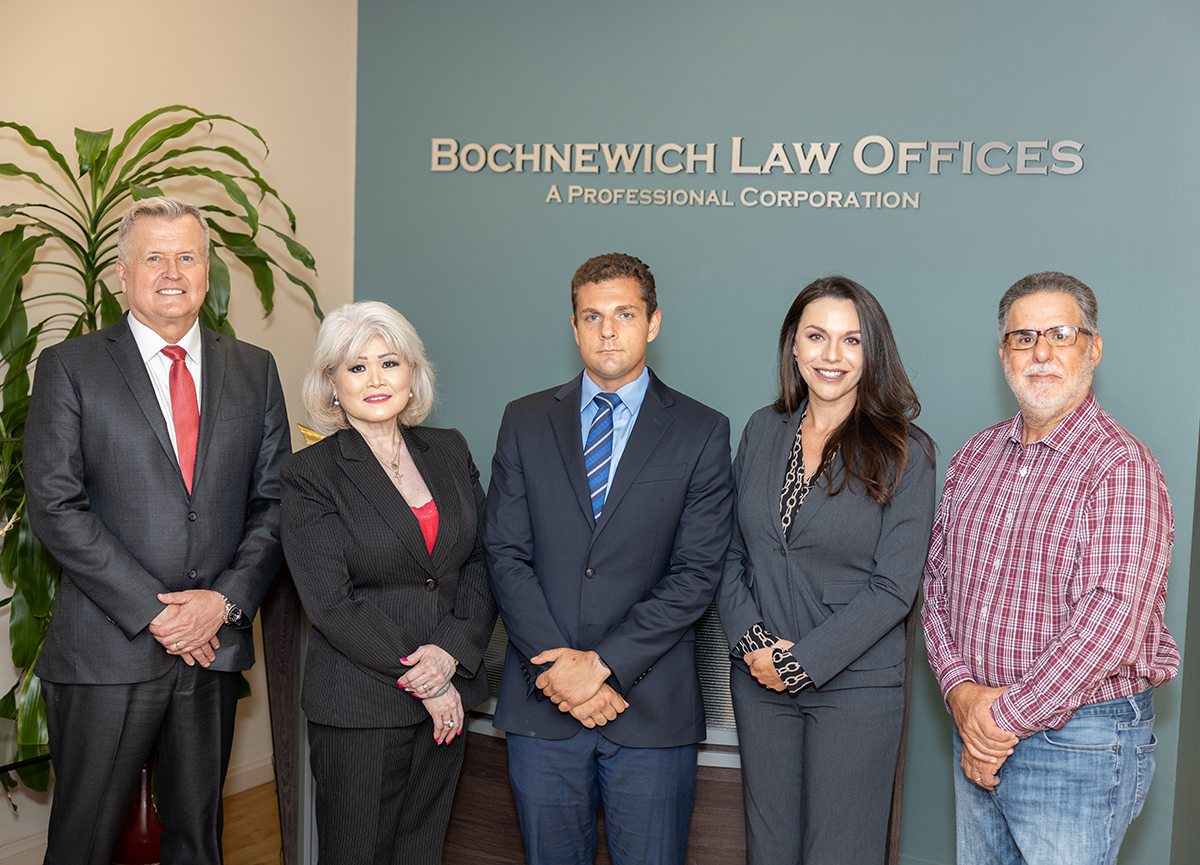 Achieving Results Through Experience,
Integrity, Knowledge, and Dedication
Bochnewich Law Offices is dedicated to providing personalized and responsive legal guidance to our clients throughout Southern California.
Our managing partner, Peter Bochnewich, has a 20+ year career in trust, estate, and civil litigation that gives us a unique opportunity to serve and provide high-quality legal services in an attentive and caring manner. This is why we are here, and our law firm is growing to meet the continued demands of our clients.
Our law practice includes all matters pertaining to sophisticated estate planning and effective representation in Court and at trial in litigation involving trust, estate, and probate issues, as well as real estate, business, and civil matters. Whether the need is for preserving a family legacy through up-to-date estate planning, administering a trust or probate, handling a real estate matter, or for a zealous presence in court, Bochnewich Law Offices can help.
Our firm is composed of a knowledgeable and hardworking group of attorneys for whom the practice of law is held to the highest standards. Our attorneys are supported by a highly qualified staff of paralegals and assistants. Our Lead Paralegal, Carol Moreno, has 40 years of experience in highly technical areas of our practice and supervises a team that helps Bochnewich Law Offices achieve maximum results in a timely manner.
Bochnewich Law Offices supports the Boys & Girls Clubs of Coachella Valley. Boys & Girls Clubs present a definitive, defensive line between future success and far less fortunate alternatives. The Boys & Girls Club provides this for many youths who may, through no fault of their own, find themselves in high-risk situations. The whole of any community benefits from the continued haven of positive development that Boys & Girls Clubs provide to kids on a very effective basis. Attorney Peter Bochnewich is happy to be a Foundation Board Member for the Boys & Girls Clubs of Coachella Valley.
Trust & Estate Litigation
This is a specialty of Attorney Peter Bochnewich, who will treat your case with the respect, integrity, dedication, and focus your matter deserves.
Probate Litigation
We have the experience and skill to handle the defense or prosecution of any litigation regarding any disputed trust, estate, probate, or conservatorship process.
Civil Litigation
Bochnewich Law Offices is pleased to have an enhanced litigation practice in the areas of breach of contract, partnership disputes, and more.